I am so excited to announce that I am teaming up this week with one of my good friends, Calie, from
Broccoli Cupcake
.
First of all, how cute is that name. I just love it. Her slogan is
"Where Healthy, Meets Happy." Here is Calie with her husband and sons.
I've known Calie now for over 7 years. We were both pregnant at the same time, she with her son and me with Brooklyn. We also both share a love of organic living and helping other people.
This week we are going to show you how you can have a healthy, gluten free 4th of July. You might remember me saying that we took Sydney off of gluten to see if it would help her tummy issues. In doing so, I have had to come up with alternative ways to eat the same foods that she enjoys, minus the gluten.
Calie is going to be showing you how to prepare those main dishes we all love, but do it in a healthy and organic way. So hop on over to
Broccoli Cupcake
and check it out. I hope you enjoy it!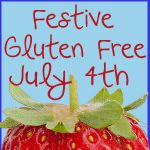 Make sure you check back with me tomorrow. I will be showing you a fun American flag craft you can do with your kids.