It's that time of year again. Yes, it's Christmas and that means it is time to order Christmas cards. Does anyone else stress about getting their Christmas cards done and mailed? I do. My biggest stress is what picture to use. Well this year I got lucky and got some great shots of the girls so it made it easy for me to decide.
Something else that made it easier for me this year was
Shutterfly
. If you have not checked out their site yet for Christmas cards, you are missing out. In my opinion, they have the best selection out there. The hard part is narrowing it down to the one you like best. Here is what I came up with. What do ya think?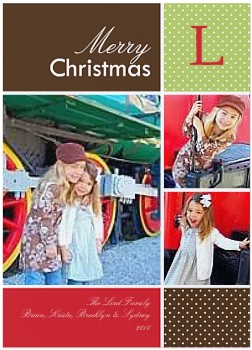 Dotty Holiday Monogram Christmas Card

Their website makes it so easy to upload your photos and edit your card how you would like it.
They have so much more than just cards too. It's really a one stop shop. They have everything from photobooks to calendars. I also found some great gifts for the grandparents that I am going to order. I can't post them though because it would ruin the surprise. :)

Right now they are offering free shipping over $50 (code SHIP50) and they are offering 20% off selected gifts. It really is so easy. I even did it with the girls climbing all over me. I would love to hear your experience if you have used Shutterfly in the past.
Now, I just have to address all the envelopes. Joy!
(Disclaimer: Shutterfly is offering 50 free cards to bloggers that blog about their awesome products. I am one of those lucky bloggers. This is the first time I have ever been offered something for my opinion. I would never endorse something that I personally did not love. )